A necklace can completely change the look of a person's style. Most ladies wear a necklace that matches with their outfit. When buying a chain, the design and on which outfit it will be worn is considered. But the length of a necklace makes a big difference. 
The 6 different standard necklaces
Collar Necklace:

This is usually the necklace that is tight to the neck, and the length is around 35cm.

Choker Necklace:

Worn tightly around the throat and is about 40cm.

Princess Necklace:

The most common height of the necklace, which is approximately 45cm.

Matinée Necklace

: Around 50cm, the matinée necklace is mostly worn for casual occasions.

Opera Necklace:

This is the elegant necklace of up to 85cm.

Rope Necklace:

This is the model of a chain that wraps around the neck.
Points to consider when choosing your necklace length

Wearing the wrong length of a necklace can spoil your whole dressing style. Surprisingly below points have a significant impact on the size of the chain that you choose.
The Shape of Your Face
A necklace acts as a frame for your face. For people with a round face, it is advisable to wear longer than the Princess Necklace length. Mainly if you do not want your face to look bulky. On the other hand, people with thin faces can wear short necklaces.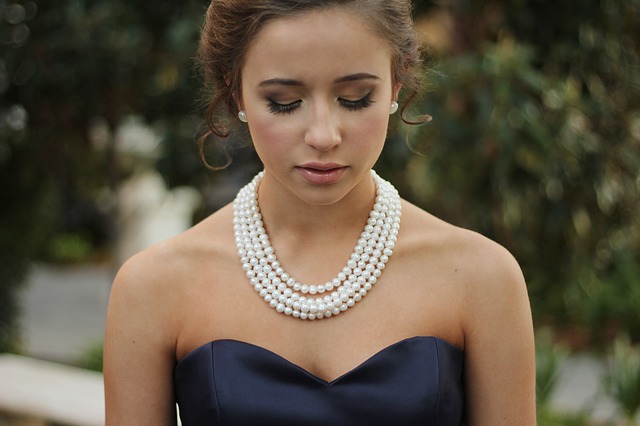 The Height
As usual, height has always been an issue for women. Height does not affect only the dressing style of women preventing them from wearing certain types of clothing. Surprisingly the height of a woman also influences the choice of necklace length.
Below are 3 ranges of height to consider while selecting your necklace:
Women who are up to 160 cm and slim compliments necklaces of up to 50 cm better.

Lucky are the women who are between 160 – 170 cm as they can wear any length.

Long chains are the best option for women who measure greater than 170cm.
Final Thoughts
Choosing the correct necklace length of the necklace can be like choosing a dress. But with the above point, your chain will now look perfect on you.